Oh the weather outside is frightful, but a Christmas market is so delightful
Christmas is fast approaching, and for those looking to get into the festive spirit, a trip to one of the best Christmas markets in Europe should be high on the travel list. While considered a traditional winter pastime, festive markets have exploded in popularity over the past decade thanks to their made-for-the-'gram aesthetic, and holidaygoers wanting to explore somewhere further afield than Hyde Park's Winter Wonderland should look to the continent for the most authentic festivities.
The tradition of Christmas markets began in Dresden in the 1400s, with cities such as Strasbourg and Vienna also laying claim to some of the world's longest-running winter markets (incredibly, they didn't make it to the UK until the 1980s). Today, however, there are plenty of destinations promising a fabulously festive break best enjoyed with a partner, friends or family. European Christmas markets typically open in late November and run until the New Year, meaning there's still plenty of time to book a weekend away; here are the best European Christmas markets to bookmark this year, as well as where to stay during your merry getaway.
Strasbourg, France
Dates: 24 November – 24 December 2023
Coined the 'capital of Christmas', Strasbourg is the oldest festive market in France, dating back to the 1500s. Come the winter season, the city's cobblestone squares are lined with traditional market stalls, stocking handmade Christmas decorations, toys, and trinkets, as well as local cuisine, ranging from bretzels (soft pretzels), spiced bredeles (Alsatian cookies), and ginger cake, to sausages and mulled wine. The main Yuletide hangouts include Place Broglie, the site of the Christkindelsmärik market, Kléber Square, and Place de la Cathédrale, which are aglow with illuminations, ornately decorated fir trees and quaint market stalls.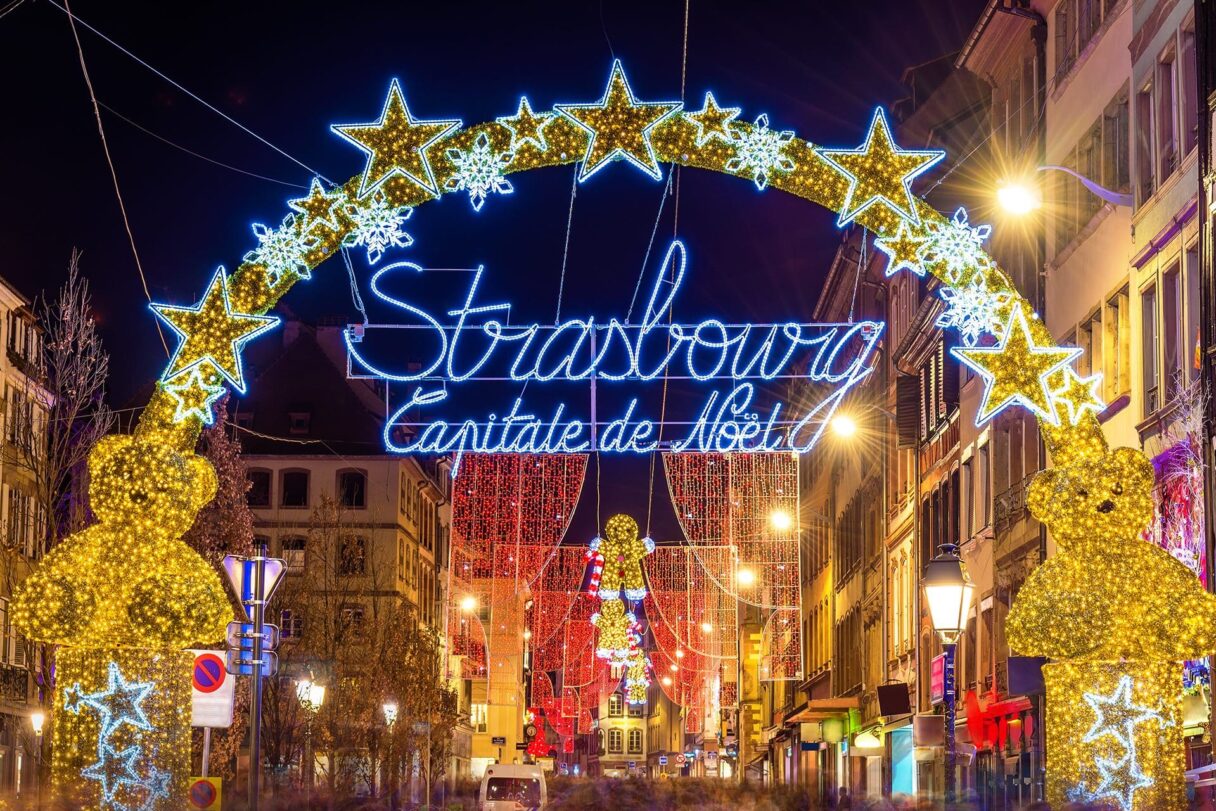 Where to stay: Boma
The eco-conscious Boma hotel is in the heart of Strasbourg's city centre, in the 'Petite France' neighbourhood, famed for its cobbled streets, timbered houses, and glistening canals. Each room is fitted with the essential amenities, while the on-site restaurant, Boma Bistro, offers tasty all-day dining.
Vienna, Austria
Dates: 11 November – 26 December 2023
Approximately three million people flock to Vienna every year to visit its impressive Christmas markets, which are rumoured to date back to the 13th Century (although 1764 may be a more historically accurate date). The hotspots worth bookmarking for your winter wanderlust include the Viennese Dream Christmas Market, located outside City Hall, the Christmas villages at Belvedere Palace, Maria Theresien Square, and Spittelberg, as well Freyung Square in the Old Town, which fills with twee stalls offering artisanal trinkets, home scents, knitwear, and jewellery, as well as sweet and savoury snacks to satiate your appetite.
Where to stay: Rosewood Vienna
Rosewood Vienna, located in the old town, is within walking distance of the main attractions, including St. Stephen's Cathedral, Mozart's house and Hofburg Palace. After exploring the city, unwind in the luxury hotel's spa, enjoy afternoon tea at Salon Aurelie, or dine at the Neue Hoheit restaurant and rooftop bar with outstanding views of the bustling capital.
Brussels, Belgium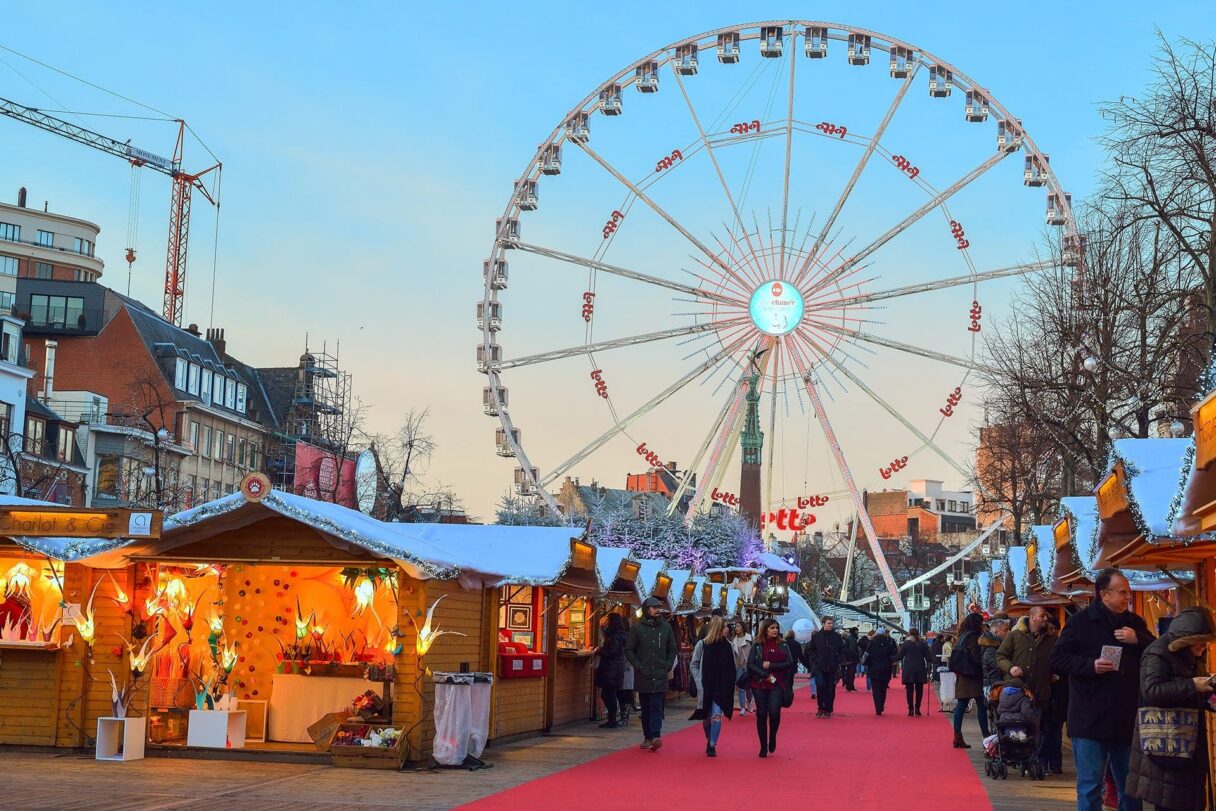 Dates: 24 November – 31 December 2023
Belgium is a popular winter destination, but deciding between Brussels or Bruges is almost as difficult as picking between Belgian fries or a decadent waffle. Brussels' main Christmas market is Grand Place, where a 10-minute illumination display is projected on the City Hall every 30 minutes, a giant richly-decorated Christmas tree stands tall in the centre, and plenty of seasonal activities can be enjoyed.
Weather not playing ball? Seek shelter at Galeries Royales Saint-Hubert, a grand shopping arcade lined with indulgent chocolatiers, before perusing the wooden chalets serving toasted waffles, raclette, and Brussels' signature glühwein in Place de Brouckère and Place Sainte-Catherine. Alternatively, head to the ice rink outside Brussels' Stock Exchange to test your skating skills.
Where to stay: The Dominican
The Dominican is a contemporary hotel situated 300 metres from Grand Place putting it slap bang in the heart of the action. Guests can relax in luxurious bedrooms, de-stress in a full-service fitness and wellness centre, or visit the chic in-house bar for a pre-, or post-dinner pit stop.
Budapest, Hungary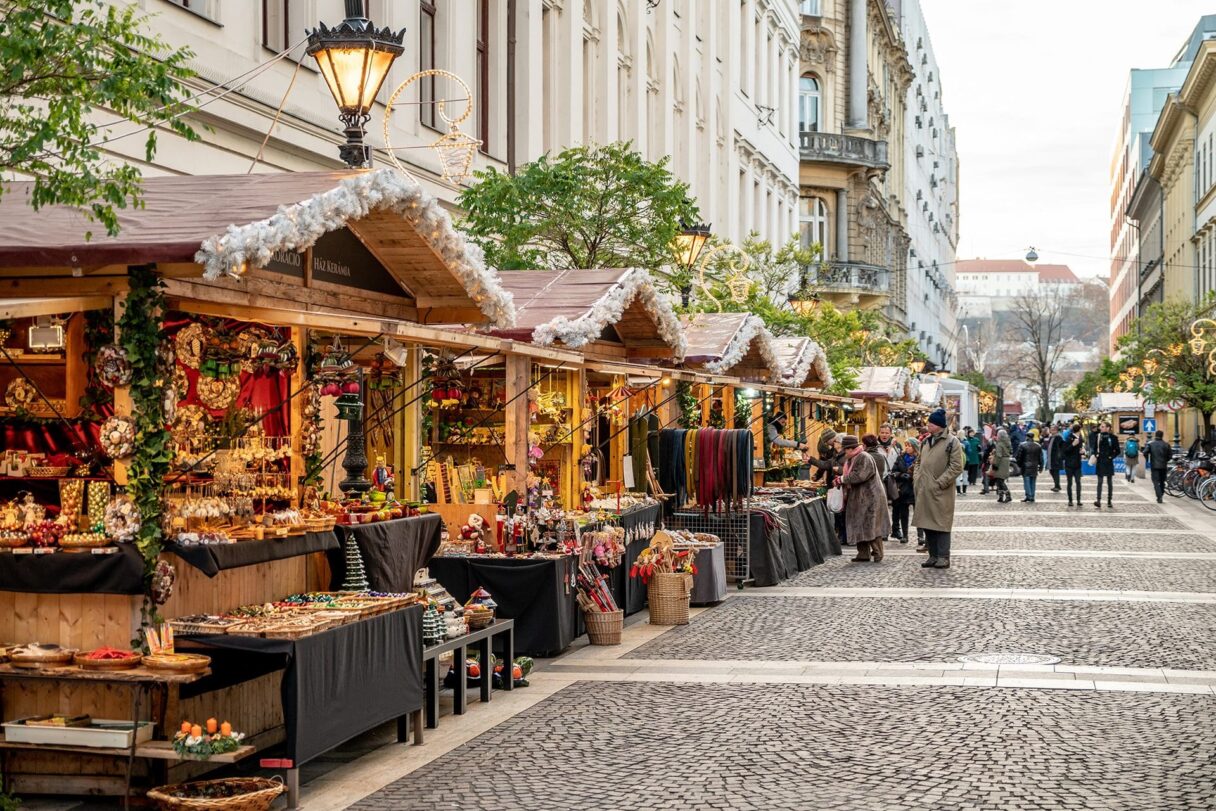 Dates: 18 November – 31 December 2023
Budapest boasts two Christmas markets; one in front of St. Stephen's Basilica and the other in Vorosmarty Square, which is the oldest market in the capital. Vorosmarty Square is a traditional festive wonderland where classic nativity displays and illuminations can be found alongside stalls laden with handmade souvenirs and Hungarian honey cookies. St. Stephen's Basilica, meanwhile, is a modern Christmas market replete with laser projections and an ice rink hugging the Christmas tree centrepiece. While in town, be sure to explore both sides of Budapest with a boat tour along the Danube River and observe panoramic views of the city from the Citadella, before defrosting at the Széchenyi thermal baths.
Where to stay: Párisi Udvar Hotel
The Párisi Udvar Hotel's luxury bedrooms boast expansive bathrooms and private terraces, while the fitness and wellness centre, as well as the opulent restaurant and bar, are relaxing hangouts to kick back in after a long day. Plus, the hotel is easily connected to all the tourist hotspots and Christmas markets.
Copenhagen, Denmark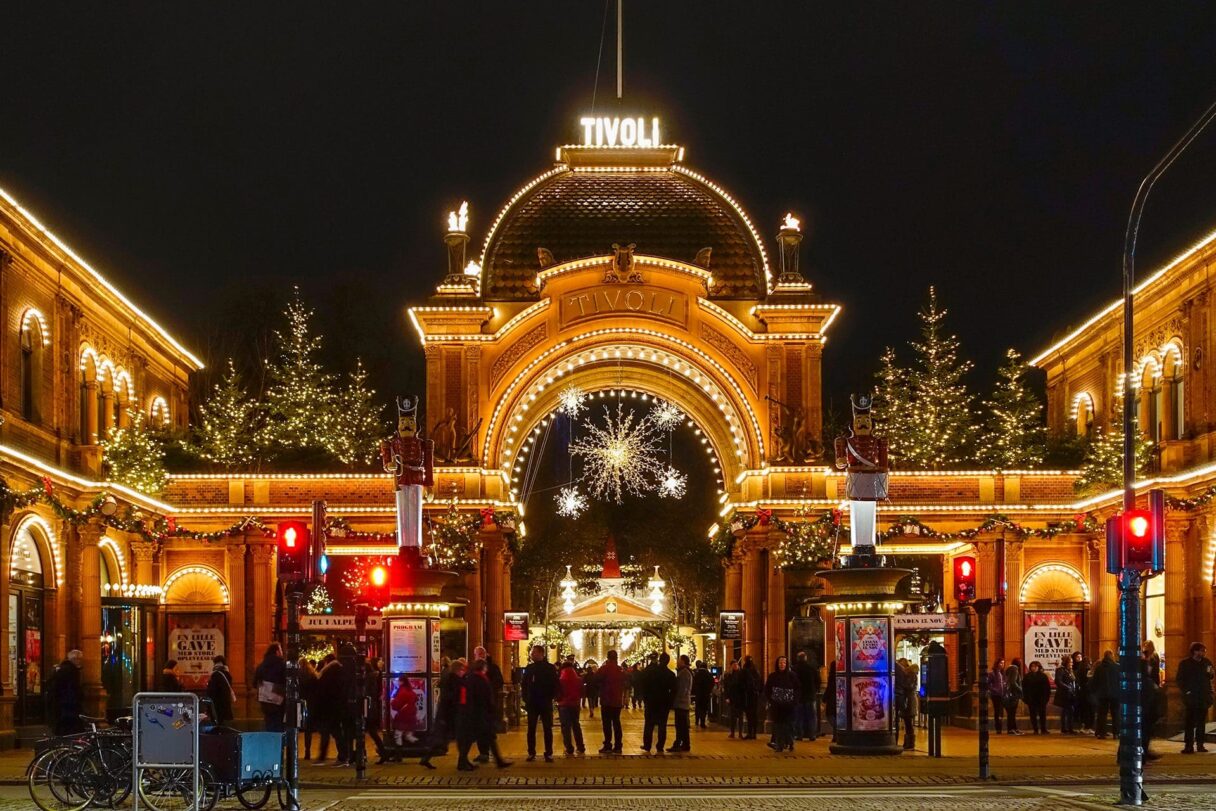 Dates: 17 November – 31 December 2023
Copenhagen has numerous Christmas markets but the iconic Tivoli Gardens is unrivalled with its array of amusements, food stalls, log fires and the unmissable Moorish Palace. Elsewhere, Nyhavn, famed for its multicoloured buildings, is peppered with festive stalls, cafés and restaurants, as well as vintage boutiques, which line the canal leading to Christianshavn. Visit the Rosenborg Castle, observe the changing of the guards at Amalienborg Palace, ice skate at Broens harbou, or weave in an afternoon of ice swimming, rewarded with sticky cinnamon buns, smorrebrod, and hot dogs, washed down with glogg.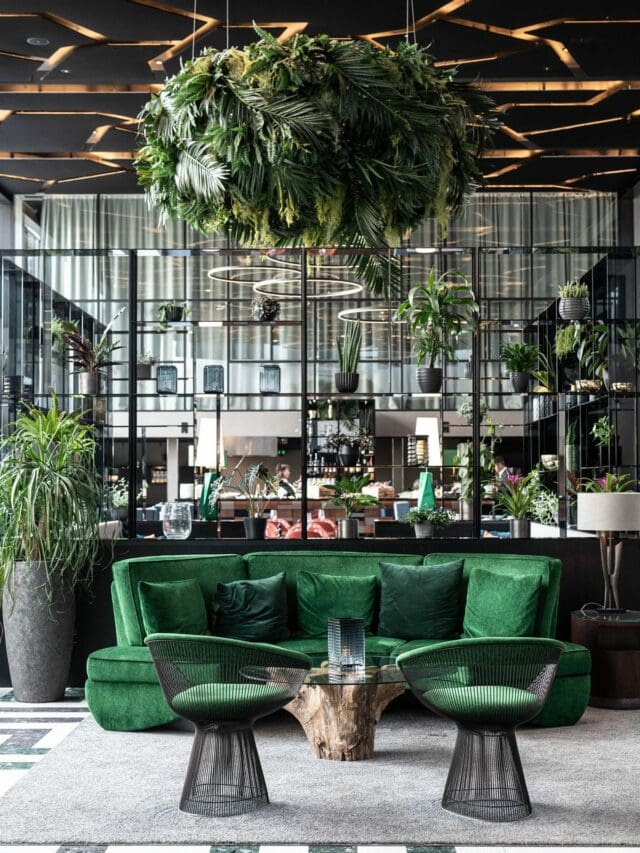 Where to stay: Hotel Skt Petri
Hotel Skt Petri epitomises Scandi style; from the hygge bedrooms to the contemporary communal spaces, including a reception flecked with greenery and the airy Secret Garden restaurant and Petri Bar. Situated in the old Latin Quarter, this luxury hotel is within a mile of the popular attractions, Strøget shopping district and Christmas markets.
Berlin, Germany
Dates: 27 November 2023 – 1 January 2024
Berlin is steeped in history, art and culture, and transforms into a Yuletide dreamland in the weeks before Christmas. The German capital will be bursting with 80 Christmas markets from November, with one of the largest being Spandeau, which caters to foodies, art enthusiasts, and fashion fans alike.
Elsewhere, Weihnachtszauber market, situated in Gendarmenmarkt square, draws the creative folk, while the Alexanderplatz market is more traditional. Breitscheidplatz, Berlin City Hall and Potsdamer Platz, meanwhile, are for the active types – especially the latter, where winter sports, such as tobogganing, curling and ice skating, can be enjoyed with friends and family.
Where to stay: Hotel Luc
Hotel Luc is nestled in Mitte, moments from Berlin's shopping district, Friedrichstraße, and Gendarmenmarkt Square, bustling with Christmas markets, while the Holocaust memorial and Brandenburg Gate are a 20-minute stroll away. This boutique residence oozes grandeur; from the royalcore bedroom interiors and spa-like bathrooms, to the lavish Heritage restaurant and bar.
Helsinki, Finland
Dates: 1 – 22 December 2023
Many flock to Finland's Santa Claus Village in Rovaniemi, the capital of Lapland, for a cosy winter retreat, but Helsinki is equally magical during its three-week-long festive market. St Thomas' Market, found in Senate Square, comes alive with 140 wooden chalets selling Christmas decorations, gifts, and local delicacies, while snow-tipped fir trees vie for centre stage. Elsewhere, Aleksanterinkatu is illuminated with festive lights, and Helsinki Cathedral hosts an annual parade on its steps to kickstart the Christmas market season. Sample more Finnish Christmas markets with day trips to Porvoo and Turku, each under two hours from the capital.
Where to stay: Hotel St George
Step inside this 19th-century hotel and be transported to a modern sanctuary where the neutral bedrooms, reception, and spa create a zen space in which to relax. Enjoy breakfast at the St. George Bakery and Bar, dinner at the in-house Thai restaurant, Boon Nam, and an evening tipple in the glass-covered Wintergarden bar.
Geneva, Switzerland
Dates: 16 November 16 to 24 December 2023
Geneva's Rue du Mont-Blanc and Place de la Fusterie are festive hotspots from which to admire charming window displays and scour festive stalls, while the Old Town, marked by St. Peter's Cathedral, sees hidden cobblestone passages lead to modest craft shops brimming with gorgeous gifts. Watch the Jet d'Eau water fountain lakeside at Quai Général-Guisan, ice skate under the stars at Parc des Bastions, marvel at the festive fun from the cathedral, or embrace tradition with Geneva's annual events: the Escalade festival and the Coupe de Noël swimming race. Alternatively, schedule a day trip to Montreux or Lausanne to catch the Festival of Lights.
Where to stay: CitizenM
CitizenM is located in the heart of the festive activities, with Lake Geneva, St. Pierre Cathedral, the Flower Clock and Mont Blanc Square within walking distance. The rooms are fully equipped with the latest gadgets, including an iPad to control the lights, blinds, temperature, and TV at the tap of a button.
So, what now?
Want to know more? A chat? Demo? We're ready when you are!
We love questions and especially talking more about ticketing within the event and tourism attraction space. We like to think we are approachable, knowledgeable and certainly the "nice people of ticketing" as we have so much industry empathy and experience.
So, feel free to get in touch for a chat or even a free, no obligation demonstration.